Unsolved - Greg Kading in Convo with Tim Westwood
Bush Hall, London.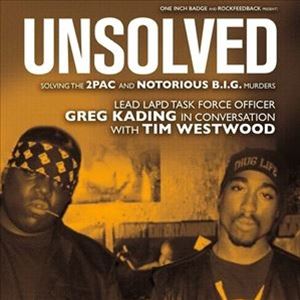 Under 14s must be accompanied by an adult. We cannot issue refunds to under 14s who are not accompanied by an adult.
More information about Unsolved - Greg Kading in Convo with Tim Westwood tickets
Unsolved: Solving the 2Pac and Notorious B.I.G. Murders - Lead LAPD Task Force Officer Greg Kading in conversation with Tim Westwood.
Greg Kading is a retired Los Angeles Police Department detective. Specialising in the fields of gangs, narcotics, and homicide, Detective Kading spent most of his career assigned to federal task forces to investigate complex criminal cases in the City of Angels. Decorated with Medal of Valor for bravery and Police Star for heroic action, Detective Kading achieved the departments highest ranking as an investigator. Detective Kading led the special multi-agency task force assigned to investigate the unsolved murders of two of the world's most popular rap music icons, 2Pac and the Notorious B.I.G, and finally answer the question of who killed them and why.
In 2010 Detective Kading published his book Murder Rap: The Untold Story of the Biggie Smalls & Tupac Shakur Murder Investigations. The book was used as the basis for the Netflix and USA Network show 'UNSOLVED', for which Detective Kading was Co-Executive Producer, a dramatisation of the real life investigations into the murders of rap icons Tupac Shakur and Biggie Smalls.
Speaking for the first time in the UK, at his only UK date, Bush Hall on Tuesday 9th October, Greg Kading will be in conversation with one of the most iconic men on UK rap music Tim Westwood.
One of the most recognisable names in both rap music and British Radio, Tim Westwood joined Radio 1 in 1994 as the host of the first national rap show in the UK, the show was launched with a live concert with Notorious B.I.G and Puff Daddy. Tim Westood has been named 'UK Radio DJ of the Year' at the MOBO Awards three times, in 2000, 2003 and 2005.