BORIS / ENVY
Oval Space, London.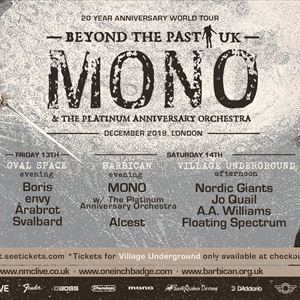 This ticket is for Oval Space on Friday 13th ONLY and does NOT grant you access to the events at Village Underground or Barbican.
This event is for 16 and over - No refunds will be issued for under 16s.
More information about BORIS / ENVY tickets
On 14th December 2019, MONO will take to the stage of the Barbican in London to celebrate their 20th anniversary. Joined by The Platinum Anniversary Orchestra, MONO will take the audience into their world - the majesty, the embrace, the delicacy and the noise. If there is one their MONO performance to lose yourself in, then this is it.
Leading up to this performance MONO have curated an event on Friday 13th December that will see Boris and envy co-headline Oval Space with support from A?rabrot and Svalbard.
Firmly placed as both progenitor and progressor within their field, MONO is like no other artist - visceral, engrossing and showing no signs of decay after two decades spent creating waves of beautiful and expansive rock music. Many an artist lays claim to setting the template - or many have this claim placed upon them - but this Japanese artist has long-since simply set their template. Listening to MONO is like entering another world, where the majesty of the noise embraces you and the delicacy of the space around it breathes warmly in your ear.

In 2019, the band released 'Nowhere Now Here' - their 10th studio album in 20 years, and a record that highlights much of what has sustained them for so long. New ground is broken as synths and vocals take centre stage momentarily, but the cascading guitars that echo a love for the likes of My Bloody Valentine are not held back. This is MONO two decades on from where it all began, and it is at once retrospective and progressive...

... and here we are now. In December 2019, MONO will take to the stage of the Barbican in London - in all honesty, one of the few venues that could do their 20th anniversary performance justice. Joined by The Platinum Anniversary Orchestra (and supported by friends both old and new) MONO will take the audience into their world - the majesty, the embrace, the delicacy and the noise. If there is one MONO performance to lose yourself in, then this is it.

Tickets for Village Underground only available at check-out for your MONO at Barbican Hall ticket(s)